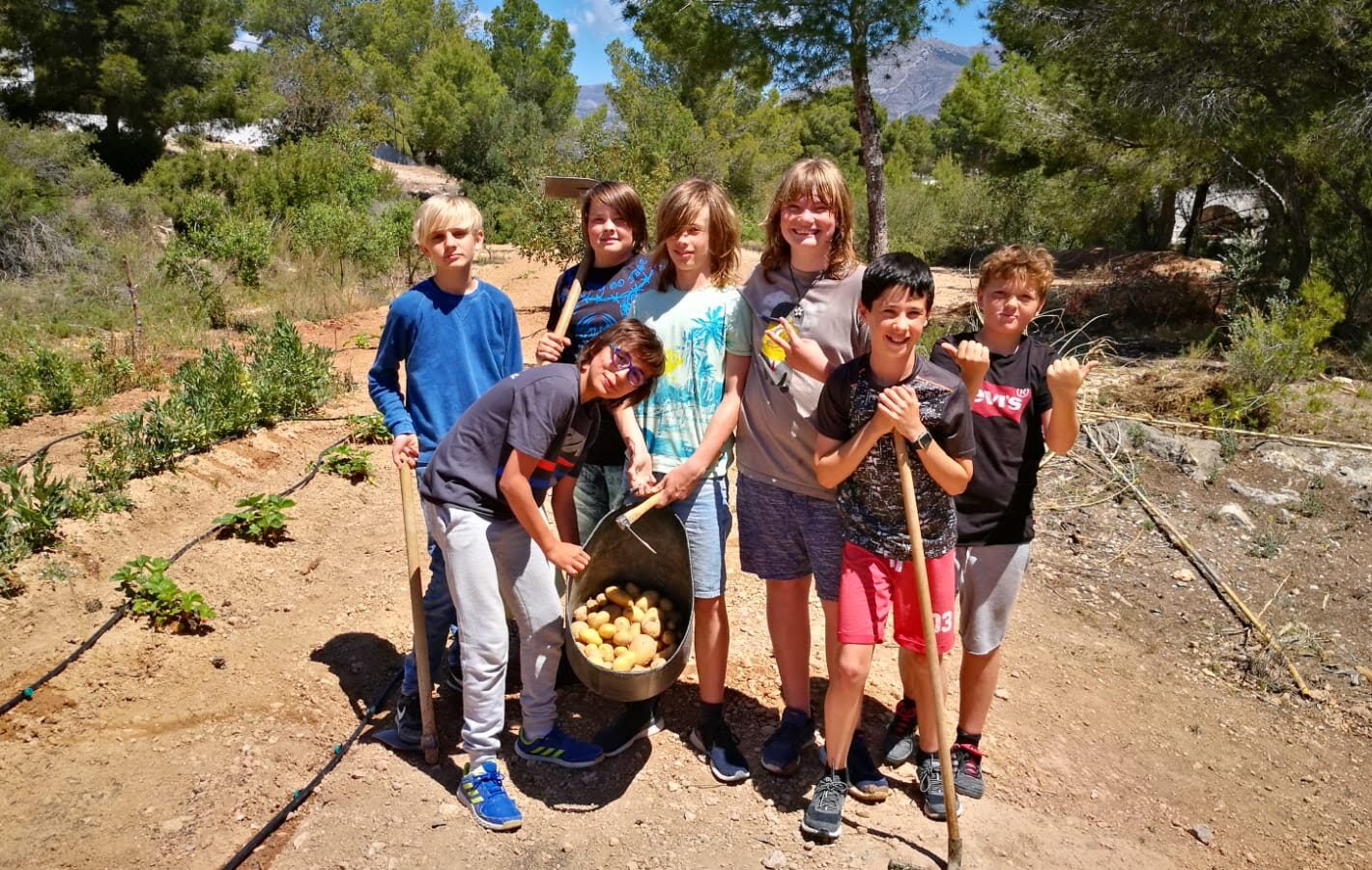 Summer school is coming back to AIS International School, this summer. Where children have the opportunity to play, create, dance and learn some new skills while enjoying our beautiful hilltop setting with panoramic views of the surrounding mountain ranges and coastline. There is a diverse and attractive range of activities for children from aged 4 upwards from 10.00 – 14.00 Monday to Friday.
There are three different age groups for summer school. The younger children aged 4-9 are led through a carefully planned schedule of activities by one of our experienced Waldorf primary teachers. Play and creative projects are held mostly outdoors but also inside in our unique primary environment which includes the school allotment. With activities that stimulate all the senses, we encourage the children to explore the natural world around them and nurture their imaginations.
Ages 10-12 work with one of the AIS teachers contributing to a theme using crafts, music and drama to bring it to life and the 13-15 year olds create their own rap and dance production and bring out their inner artist with painting sessions. The classes are delivered by our English speaking teachers alongside some special guests of AIS International School. There is also the famous AIS Teens Summer School for 16-18 year olds.
During the summer school, which runs throughout July, the children experience full immersion in English on all levels, while taking part in the activities we mentioned above.
For those who want to improve their Spanish, there is a Spanish summer intensive course to improve their speaking, writing and reading.

Children love the outdoor space at AIS with its gardens in bloom, outdoor sports courts and fruit and vegetable allotment. The auditorium is also a fantastic space for producing music, theatre and dance.
There are many fun and educational activities to suit every child's needs, so you can leave them safe in the knowledge that they are having a good time and learning some new things while you go about your daily life.
Summer school at AIS costs 100€ per week with discounts for 3 or 4 weeks and for siblings. In addition, we are delighted to confirm that for summer school we have extended hours from 9.00 am for those who require it. Plus there is a bus service from Altea, Calpe and Teulada/Benissa.
The AIS International summer school program offers amazing and unique experiences for your children in an unrivalled natural environment.  Numbers are limited so get in touch today or find out more information here on our Summer School page. 
AIS International School is a thriving community of students, parents and friends and our wonderful team who make it all happen. If you're looking at choosing an international school on the Costa Blanca for your child, get in touch with us using our contact form on the website. You can also contact us via our Facebook page, Instagram, call us on +34 625295634 or email us [email protected].